During the course of a year, we get many cracked oboes and clarinets that come through our shop.  Sometimes the cracks are microscopic and sometimes they are huge!  Either way, seeing a crack on your instrument can be terrifying and they never appear at a convenient time.
When our clients contact us to send in their instrument, this is one of the most common comments we hear, "I just found a crack on my instrument, I tested the suction of the joint and there isn't any suction!"  Although this is a valid thought and very understandable, many times the fact that your instrument has cracked and the fact that there isn't much suction are completely coincidental.  There are many contributing factors that cause an instrument to leak and, if not maintained regularly, these factors can compound and show themselves at the wrong time, i.e. when your instrument cracks and you try a suction test.
Some of the things that can cause your instrument to leak besides cracks include: warped pads, pads with super deep indentions, torn or cracked pads, large wood grains on the tone hole surface, loose metal tenon ferrules, loose reed well, loose register tubes, leaking octave vents, loose mechanisms which cause keys/pads to not accurately cover tone holes and adjustment screw materials compressing/breaking causing key adjustments to not be stable, just to name a few.
Determining the real reason why your instrument is leaking can be tricky and is not always what you think.  In this blog post, we wanted to take a little time to show you different types of cracks and why they might or might not make your instrument leak.
When your instrument doesn't leak because of a crack:
In picture #1 below, you can see an oboe that cracked on the back side of the upper joint which is marked by the pencil hashmarks.  This crack doesn't go through any tone holes and it doesn't go all the way through into the bore.  In an example like this one, the oboe will not leak just because of the crack.

When your instrument will leak because of a crack:
In picture #2 below, you can see a clarinet that cracked through the top side trill tone hole on the top joint.  When you have instruments like this one that cracks through a tone hole, your instrument will leak.  Another way a crack can potentially cause your instrument to leak is when the crack goes through a post hole.  You can see an example of this in picture #3 below.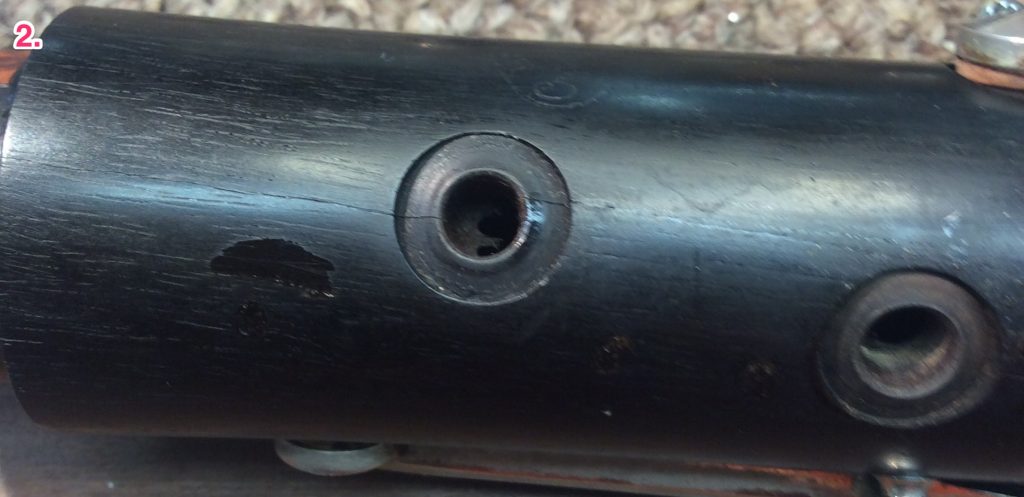 When to monitor a crack:
If you feel your instrument has cracked but are not totally unsure, then this would be a time to monitor the situation, i.e. keep an eye on it.  If the supposed crack looks like a grain in the wood, keep an eye on it.  Feel free to mark the alleged crack with pencil hashmarks on each end of the alleged crack.  If you see evidence of the crack getting longer or opening wider, then that is when you should contact your favorite repair specialist.
Here at Onks Woodwind, we are happy to evaluate cracked instruments at no charge.  Many times we can evaluate the instrument via email with high-quality pictures.  Modern smartphones have amazing cameras so use those cameras to your advantage and send us some pictures if you feel your instrument has developed a crack.   Email the pictures to office@onksws.com and we will get back to you as soon as possible.
Bottom line, just because your instrument has cracked, doesn't necessarily mean it is causing a leak.  If it's minor, you may be able to keep an eye on it.  If it's a major crack going though tone holes or into the bore, you should send it to a professional repair person right away.  If your instrument is leaking, whether from cracks or normal wear and tear, the team at Onks Woodwind would be honored to serve you.
Blessings, Jason Onks